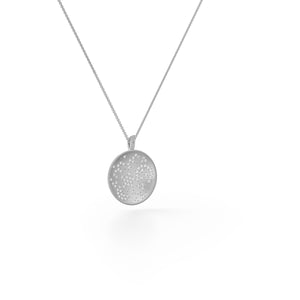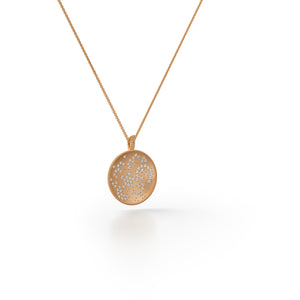 'Luck in my teacup' coin
'Perchance this cup will show it thee. Would'st thy fortune like to see?'
What do you see in the #DiamondTeaLeaves? 
An 18kt Gold or Platinum coin pendant sprinkled with 66 round brilliant cut white diamonds suspended on a fine vintage-inspired chain.
Symbols you may find in the 'Luck' coin include;
- Horseshoe - Good Luck symbol.
- Sun - Good Luck, Great Happiness. Fortune, peace of mind, insight, goodwill and enlightenment.
- Moon - Important change. Prosperity.
- Birds - Good Luck. You are protected by your spirit guides
- Archway - Plans much deliberated over will be launched successfully. A positive opportunity in the future
- Banana - Hidden magic. Spiritual development and amusement. Material possessions are likely to be easy thing you to obtain