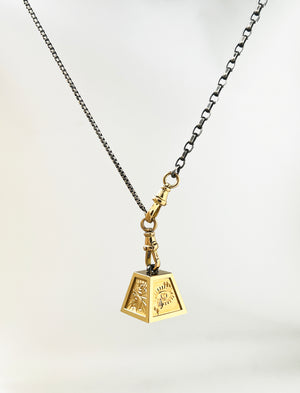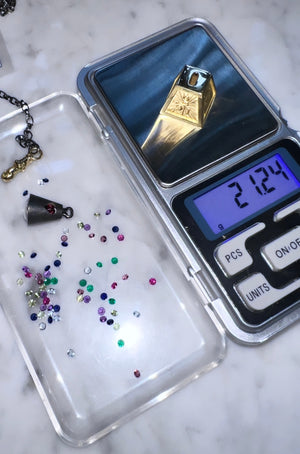 Soul Weight Memento Locket
It is said that a human soul weighs 21grams.
I became obsessed with the idea that a loved ones soul could be something tangible, that you could hold close to your heart and feel the weight of.
Fill the blackened silver memento locket with the essence of someone- their birthstones, a tiny note with their handwriting, a mini lock of their hair or even ashes if they've passed, nestled right into the heart of the piece.
The #SoulWeight is exactly 21 grams of solid 18ct gold. Hand engraved with a forget-me-not flower to keep them on your mind at all times, and a loving eye with a tear of happy memories frozen in time.
The pendant comes with two-part adjustable blackened silver chain, with 18ct Yellow Gold Albert clips to attach to the locket. 
Quotes for 18ct Yellow Gold chains available upon request.
Each Soul Weight also comes with two silver lockets- one set with a clear Rock Crystal window, and the second set with a more opaque gemstone of your choice- moonstone, pink or green tourmaline, or a pearl, so you can decide if you'd like the contents visible or obscured from view.
If you'd like us to provide a few small birthstones for your soul, please do let us know your choice! 
Personalised engraving also available, please email for information.
Please note because of the very specific and accurate weight and the intricate hand engraving, this piece will take around 8-10 weeks to be made.