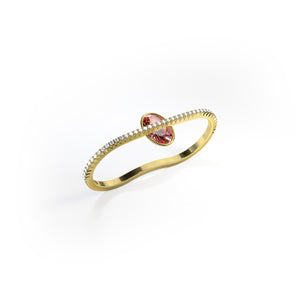 Femme Fatale 'Siren' Ring
An 18kt Yellow Gold double finger ring set with diamonds atop with a faceted peach tourmaline hidden beneath the ring, nestled neatly between the two fingers. 

The ring is a symbol of femininity, strength, intelligence and sexuality.
We like to think of it as a diamond boxing glove sending out the message 'don't mess with her, she is strong.' 
 
The design is literally inspired by the female form and shapes within, the hidden stone sits neatly between the two fingers.
Having the stone actually touch your skin in wear is important in its healing role as well as your fingers in turn physically protecting the stone to symbolise strength.
Women are powerful. 
 Ever since we found out about the amazing work that Bloody Good Period does we've wanted to help however we can. We are donating £100 from every purchase of the #FemmeFatale collection to @bloodygoodperiod to help supply feminine sanitary products to asylum seeker drop-in centres and food banks in London and the UK. Find out more about what they do here https://www.bloodygoodperiod.com/