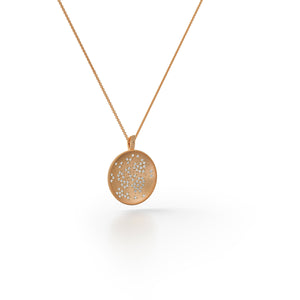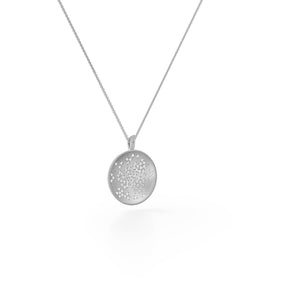 'Love in my teacup' coin
'Perchance this cup will show it thee. Would'st thy fortune like to see?'
What do you see in the #DiamondTeaLeaves? 
An 18kt Gold or Platinum coin pendant sprinkled with 66 round brilliant cut white diamonds suspended on a fine vintage-inspired chain.
Symbols you may find in the 'Love' coin include;
- Heart - A lover
- Infinity - Never-ending love
- A bell - A new visitor will knock your door in the near future. A phonecall. A wedding.
- A butterfly - Success and happiness
- A flower - Love and happiness. Good times to come.
- A Key - You are ready to explore new possibilities in your life. New doors will open soon.
- Triangles - Unexpected good fortune
- Chain - Responsibility
- Angel - Symbolises love, protection and peace. Good news, especially in love-related matters
- A Giraffe - Symbolises fortuitous coincidences and the energy or positive frame of mind to attract them into your life